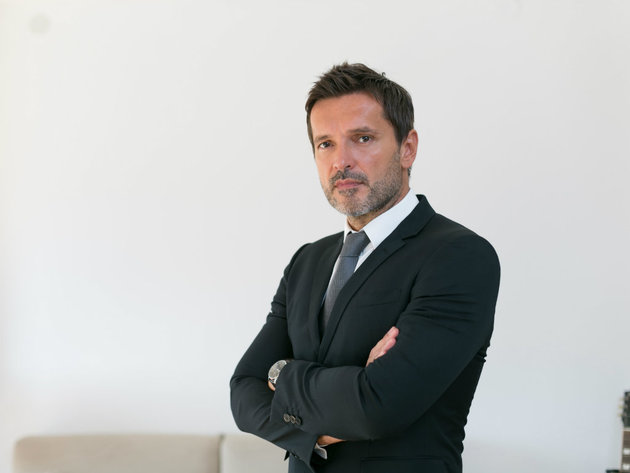 Sauter is a global brand in the field of automation of office buildings, shopping malls, hospitals, hotels and all other types of facilities. They've been present in the area for over 50 years, and this March, at the ISH fair in Frankfurt, they presented their latest solution, Modulo 6.
Mladen Vukanac, General Manager at Sauter Building Control Serbia, talks about the Modulo 6 solution and digital facility planning and green building in Serbia.
– Sauter is opening new horizons and setting new standards in the field of automation through digitalization, iCloud and "Internet of things" concepts as applied in the Modulo 6 equipment and solutions. Building automation entered the digital age, as was to be expected.
Traditional systems are being replaced with "Internet of things" (IoT) and iCloud, and SAUTER Modulo 6 seamlessly connects to the cloud and IoT as safely as it does to existing systems. Using the MQTT protocol, the data can now be automatically stored in iCloud if needed or integrated into a local system from iCloud. Cloud services are available for monitoring operation and engineering. Cloud offers new and fantastic possibilities for optimization of building performance. Data analysis of information like usage levels of devices, actuators, and valves can give us life-expectancy of the device. We can diagnose devices in a Sauter system at any moment and act preventively, before a malfunction causes a standstill in the operation of the whole system or one of its parts. Modulo 6 allows us to communicate to our building using voice commands and through cloud, as well as locally using the Bluetooth integrated in Sauter equipment.
The interview with Mladen Vukanac is the thirteenth interview with companies-members of the Swiss-Serbian Chamber of Commerce, whereby the SSCC promotes the operations of Swiss companies in Serbia and highlights the values and good business practices of this country and these companies.
eKapija: In the past few year, Sauter has been intensively dealing in energy-efficient solutions and green building. How prepared is the Serbian market for this kind of construction and how can it be further improved?
– It seems to me that Serbia has recognized green building, but promoting such a concept needs to be present at all times. Our country needs to take into consideration about investors' interests and try to provide incentives for that type of building. Green building certainly contributes not only to energy savings, a healthier environment and improving the quality of people's lives, it is also the driving engine of economic development. If we know that green building stimulates local producers and local workforce, than any initiative in that sense can be beneficial to all of us. Our position when it comes to green building compared to Europe is not bad, but there's certainly a lot of room for progress.
eKapija: To what extent do investors implement green technologies in building their facilities?
– Nearly half of the projects our company's realizes are currently in the process of green building certification. Investors, then, certainly consider the benefit of green building, comparing it to investment costs that go into such construction projects. It's important to emphasize that green building is not an obligation, but exclusively the investor's decision to build green. Green technologies help, not just in the marketing sense, whereby the investor sends the message that they take care of the environment and that the building provides comfortable living conditions, along with a healthy environment, but also in the much more important sense, where resource savings during the exploitation of the building are great.
eKapija: Sauter also has its tools for the digital planning of facilities and a building management software. To what extent does the implementation of modern technologies contribute to the development of your operations and in what way?
– The implementation of digital technologies certainly opens a lot of new space for our future development, but also opens many question about where this development will go and what the future brings. Our interest as a world brand in the field of building automation is to be creators of development in the automation of IoT buildings, which we are doing this year by implementing our new Modulo 6 solutions, which are based on IoT and Cloud technologies implemented in the Building Automation concept.
eKapija: Where is Serbia in your field of operations (building automation) compared to other countries of the region you operate in, and where compared to the European market and beyond?
– High standards need to be accompanied by quality. Sauter is the kind of company that, if it has to give up something, the quality will be the last thing it gives up.
Our market recognizes quality, otherwise, Sauter would not survive this long. I can say that the level of technologies and solutions we use in projects in our country stands shoulder to shoulder with projects in much more developed EU states. All our clients think in the long-term, therefore, Sauter is a logical choice for them.
eKapija: Sauter's operations in Serbia date back to the 1990s, when it realized projects such as the automation of the underground railway station at the Vuk Monument and the NIS office building in Novi Sad. In the meantime, you have worked on a range of facilities, shopping malls, factories… What are the main projects and activities of Sauter in Serbia at the moment?
– We are working on a large number of well-known projects currently being realized in our country, namely, business towers and business centers, factories, hotel complexes… In all these years, we have positioned ourselves as a nearly inevitable participant in the process of execution of large projects, as shown by our references in the past 20 plus years.
eKapija: Which Swiss values do you implement in your operations?
– Four concepts are always related to our operations: constancy, innovations, reliable quality and knowledge.
eKapija: How do you rate Sauter's operations in the past period, globally and in the market of Serbia and the Balkans? What have been the main challenges?
– The company records a constant growth globally, which allows us to invest in research and development, which is very important in the business we're in.
There are plenty of challenges, both long-term challenges and those that appear daily. It's really hard to say which ones have been the most difficult, but it's fully clear that, without challenges, our job would be boring, and the job needs to be fun at least in part in order for one to be able to do it successfully in the long term.
eKapija: What are the company's expectations and plans for the upcoming period?
– In the upcoming period, we expect the wave of investments that has been initiated in the construction sectors to continue and we are looking forward to it. We are preparing the existing capacities and trying to grow along with the market.
Source: www.ekapija.com