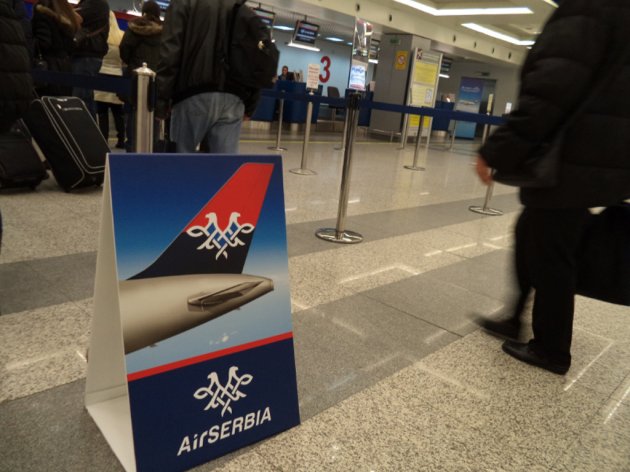 Air Serbia, the national carrier of the Republic of Serbia, will resume a limited scheduled passenger air transport services on 18 May, increasing to a comprehensive schedule on 1 June 2020, the airline carrier announced.
The final flight schedule will depend on the decisions and guidelines of national, foreign, and international civil aviation authorities and on the lifting of the flight bans, evolution of travel restrictions and health measurements to countries served by Air Serbia.
Flights will be operated according to a provisional flight schedule published on airserbia.com and will be subject to change. From 18 May, limited operations will be launched to London Heathrow, Frankfurt, Zurich and Vienna.
– Although travel is currently restricted by multiple government regulations, we are planning for the easing of restrictions to enable our customers to start travelling again. We will endeavor to operate as many scheduled flights as possible. Our team is carefully following the ongoing decisions of competent authorities and, in addition to relaunching flight operations, we will ensure our customers are kept up to date on their bookings and the appropriate safety measures that will be in place. We have used the period during which we were unable to perform regular operations to reorganize and prepare for the challenges ahead. We have been delighted to be able to assist the Government of Serbia in performing multiple humanitarian and repatriation flights, transporting medical aid and experts, and bringing home our citizens who were stranded at foreign airports – said Duncan Naysmith, Air Serbia CEO.
Due to the restrictions affecting the network, the anticipated flight schedule for the summer 2020 season will undergo certain changes. Due to anticipated demand, flights to certain destinations will be operated as planned at the start of the year, other flights will be operated at reduced frequencies, while flights to a several destinations will be temporarily suspended.
– Our flight schedule will remain strong for operations to Podgorica, Zurich, Vienna, Paris, Tirana, Zagreb, Skopje, Bucharest, London, Sarajevo, Sofia, Frankfurt, Brussels, Kiev, Krasnodar, Zadar, and Nice – the press release says.
They will also optimize the number of weekly flights to Tivat, Ljubljana, Athens, Thessaloniki, Amsterdam, Prague, Moscow, Berlin, Rome, Istanbul, Milan, Dusseldorf, Dubrovnik, Split, Larnaca, Copenhagen, Stuttgart, New York, Banjaluka, Tel Aviv, Stockholm, Venice, Pula, Barcelona, St. Petersburg and Madrid.
For the time being, Air Serbia will not operate flights to Helsinki, Lviv, Amman, Florence, Chisinau, Rostov on Don, Malta, Geneva, Cairo, Beirut and Rijeka.
– We are working closely with our partners to determine the demand for charter operations – the airline carrier says.
Air Serbia will implement all required safety measures on its flights, in keeping with the highest standards of safety and hygiene and the instructions of national and international regulatory bodies. As always, the safety of the passengers and crew members remains the number one priority.
– There is a possibility that some flights to a limited number of destinations may be organized earlier, i.e. before 1 June. Should general conditions allow the organization of such flights, Air Serbia will notify its passengers immediately – the press release says.
Source: www.ekapija.com