As part of the project "Property Tax Reform", the Government of Switzerland supported the new information system for local tax administrations with 200,000 EUR. The conference was attended by Serbian Prime Minister Ana Brnabic, the Minister of State Administration and Local Self-Government, the Minister of Finance, and the Swiss Ambassador Philippe Guex.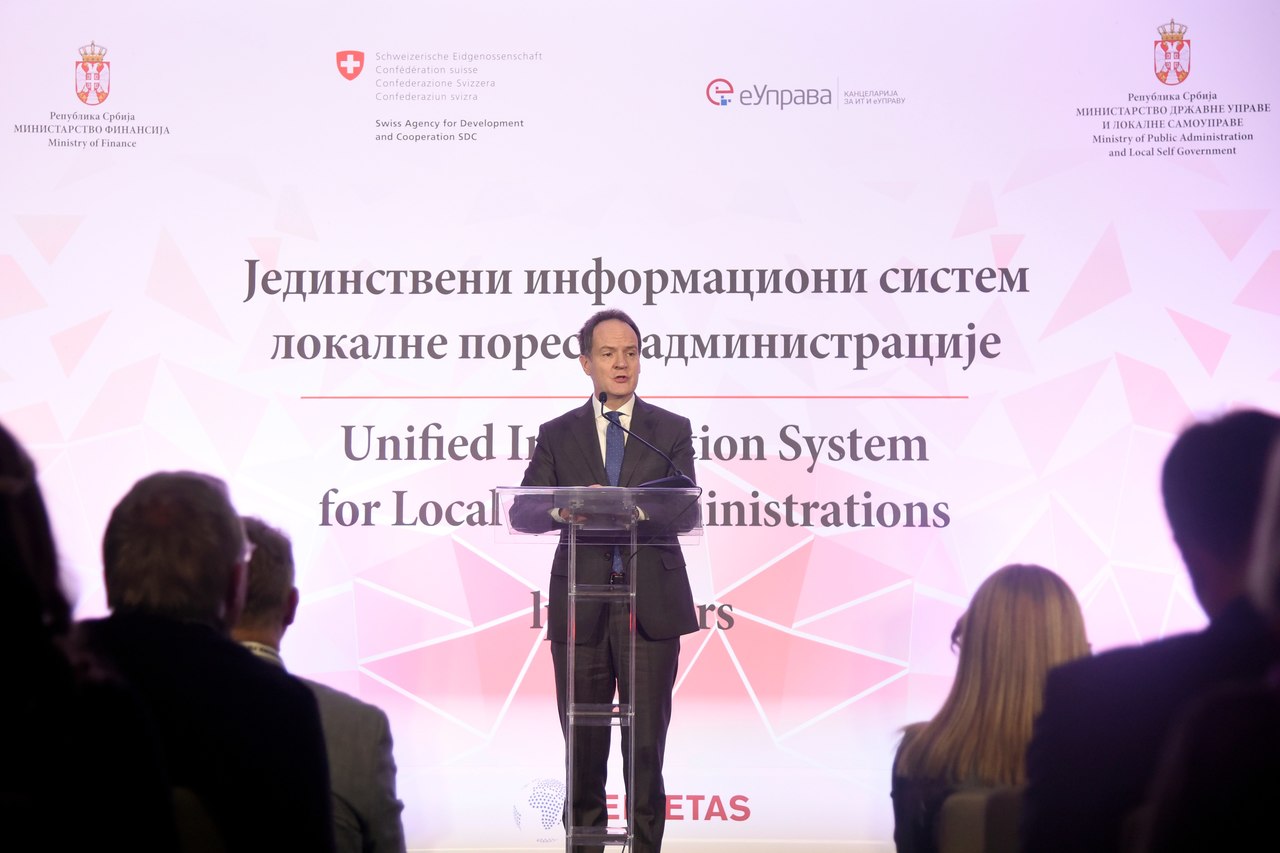 Prime Minister Ana Brnabic expects this will help Serbia advance on the Doing Business list, which will later bring new investments and jobs. For her, electronic administration means a faster, more efficient and more transparent service to both citizens and businesses.
"The introduction of e-governance introduces basic order in the state. The biggest benefit is that we are bringing common sense and order to the public administration, while at the same time, becoming a service for citizens and businesses," the Prime Minister pointed out.
H.E. the Swiss Ambassador Philippe Guex emphasised that the introduction of this system is a great success, and that it will contribute to more efficient law enforcement.
"Switzerland is proud to support local governments in introducing services that make life and business easier for citizens and businesses. The value of this project is 4.8 million EUR, but good relations between Serbia and Switzerland are more important than that," said Ambassador Guex.
Minister of State Administration and Local Government Branko Ruzic noted that digitization is an unstoppable process, and that it is important that the state exists for the citizens, and not the other way around.
"Thanks to the support of the Swiss government, we have established records of property taxes in 44 municipalities and 11 cities throughout Serbia. Thanks to this project and the great commitment of the Office for IT and E-Government, today we have this unified system," said Minister Ruzic.
The Tax Administration will be completely reorganised by the end of June, and this will enable them to be even more efficient, announced Sinisa Mali, Minister of Finance.
All local tax administrations in Serbia now operate in a unified system that allows citizens and businesses to submit tax returns online, and check and pay their tax obligations electronically. In practice, this means that citizens can see what they owe in taxes by simply entering their username and password.
Source: www.eda.admin.ch