President of the Republic of Serbia Aleksandar Vučić met today for a farewell visit the Ambassador of the Swiss Confederation Philippe Guex and thanked him for the successful cooperation during the previous four years.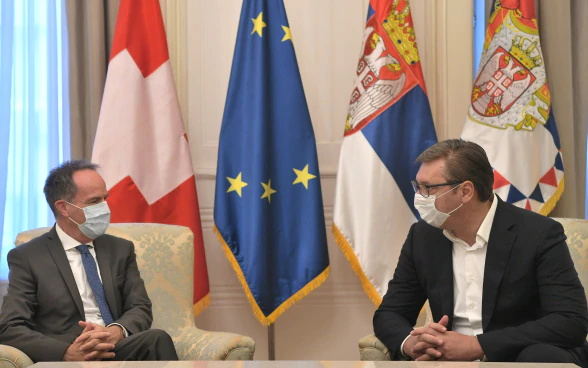 President Vučić said that Ambassador Guex made a significant contribution to the development of relations between Serbia and Switzerland, assessing that political dialogue and economic cooperation are on the rise. The two interlocutors agreed that not all opportunities in the field of economy have been employed yet and that focus should be placed on attracting more Swiss investments to the Serbian market, as well as increasing the trade exchange.
President Vučić thanked for the assistance provided in the field of dual education, which we are establishing in Serbia, following the example of Switzerland as a country with one of the best educational systems. He expressed satisfaction that he had the opportunity to learn a lot about dual education from Ursula Renold from the Swiss Economic Institute and emphasised that dual education represents the future of Serbia. Ambassador Guex pointed out the importance of the achieved cooperation in the establishment of science and technology parks in Serbia, not only in Belgrade but also in Niš and Čačak.
President Vučić thanked Ambassador Guex for Switzerland's support for the European path of Serbia. The two interlocutors also discussed the situation in the region, as well as the global challenges imposed by the coronavirus pandemic, especially for the economy. On that occasion, President Vučić expressed his gratitude for the significant donation that Switzerland provided to Serbia for the fight against COVID-19.
President Vučić wished Ambassador Guex much success in his further diplomatic career.
Source: www.eda.admin.ch