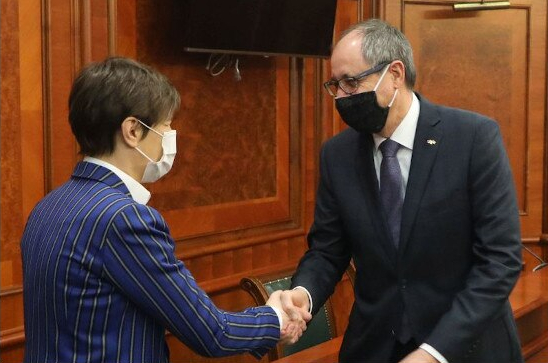 On 19 February 2021, the Ambassador of Switzerland, Mr. Urs Schmid, was received by the Prime Minister of the Republic of Serbia, H.E. Ms. Ana Brnabic, for a courtesy visit. The meeting provided an excellent opportunity to review the excellent bilateral relations between Switzerland and Serbia.
Prime Minister Brnabic thanked Switzerland for its valuable support in the various fields of cooperation. In 2021, Switzerland celebrates 30 years of continuous cooperation in Serbia. Over these years, extensive cooperation programs have been built up and Switzerland ranks among the four largest bilateral donors, having invested more than 400 million Euro in development assistance.
Among the key priorities of her government when it comes to bilateral cooperation, Prime Minister Brnabic mentioned advancing digitalization, fostering dual education and supporting energy transition in Serbia. The Prime Minister highlighted the relevance of Swiss know-how, best practices and experience in order to advance the development of an innovative and sustainable Serbian economy. Ambassador Schmid confirmed that Switzerland will continue to be a key partner of Serbia in these endeavors, in particular with this year's approval of a new strategy for cooperation in Serbia for the years 2022-2025.
Ambassador Schmid was also briefed about the objectives and plans of the Serbian government to strengthening the rule of law and improving the functioning of the judicial system. Ambassador Schmid welcomed the outlined efforts to render the judiciary more efficient and transparent, and he emphasized their importance not only for Swiss businesses and for the country's ability to further attract foreign investments but for the socio-economic development as a whole.
Source: www.eda.admin.ch