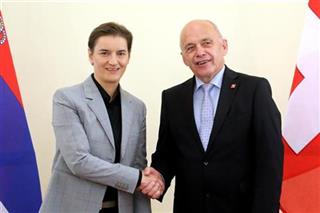 BERN – Serbian PM Ana Brnabic met with Swiss President Ueli Maurer in Bern Tuesday.
In a statement after the meeting, Brnabic said the conversation had been substantial and that Serbia and Switzerland maintained good cooperation that had particularly been intensified in the fields of education, science and digitalisation over the past three years.
Switzerland is a long-time partner of Serbia concerning the introduction of dual education in the Serbian educational system, she said.
The concept has come to life successfully in Serbia and pupils and their parents are showing great interest in it, she said.
"We will soon also introduce dual education at faculties," Brnabic told Serbian reporters in Bern.
With Swiss assistance, Serbia has developed its first and, for now, its only science and technology park in Belgrade, which has 700 engineers working for over 70 companies that have set up operations there, she said.
She said an agreement had been reached with Maurer for Switzerland to continue to support such science and technology parks with know-how.
She noted Switzerland was also one of the biggest donors in Serbia and that it had been working on development and implementation of a poverty reduction strategy in the country for over 10 years.
Photo: Tanjug/Government of Serbia/S. Maljevic
Source: www.tanjug.rs